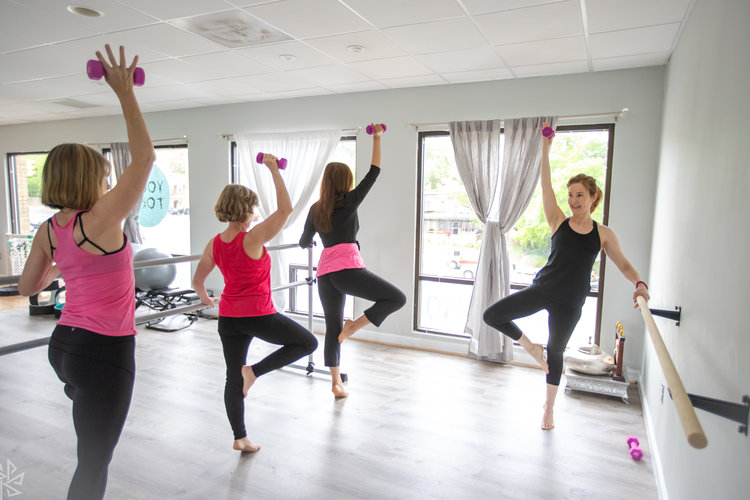 Barre
Barre fitness classes are simply ballet-inspired workouts, incorporating a ballet barre and maybe some plies and pirouettes into the workout here-and-there. Essentially, Barre classes mix elements of Pilates, dance, yoga and functional training, and the moves are choreographed to motivating music.
Qigong
Qigong is an ancient Chinese exercise and healing technique that involves meditation, controlled breathing and movement exercises. Qigong means cultivating energy, it is a system practiced for health maintenance, healing and increasing vitality. This class is for all abilities and ages.
Zumba™
ZUMBA™ is a dance style class with a fusion of Latin and international music combined with a dynamic, exciting, energizing, and effective workout. You won't even realize you are exercising in the fun party-like atmosphere where everyone can dance!
Cardio Fitness Dance
Dance your way to fitness! This dance-based and upbeat cardio class incorporates a wide variety of medium- and low-impact aerobic dance moves to a variety of high-energy beats. You'll begin with a warmup to get your body ready for the party and then the class blasts off with the dancing set to a high-energy soundtrack of some of your favorite songs from the 70s, 80s, 90s, and today! Small hand weights are used to intensify this follow-along class to help tone your muscles while cranking out your cardio. It's like a dance party! All levels and ages!
Circuit Training
This class is a total body workout! We will use resistance and cardio training techniques to improve your endurance and help you build strength. Circuit training allows you to fit a huge variety of movements into your workout– meaning a full body challenge, and none of the boredom that can come with repetitive exercises. Plus, circuit training has all the metabolism and mood boosting benefits. It is designed to promote strength, cardiovascular endurance, lean muscle growth, and excess fat loss.
Pound.RockOut.Fitness®
Pound fitness is a combination cardio and weight training exercise approach that includes some of the rhythmic techniques used in Pilates. Pound classes focus on strengthening the body overall while focusing on specific parts of your body. Instead of listening to music, you become the music in this exhilarating full-body workout that combines cardio, conditioning, and strength training with yoga and Pilates-inspired movements. Using Ripstix®, lightly weighted drumsticks engineered specifically for exercising, POUND® transforms drumming into an incredibly effective way of working out. Designed for all fitness levels, POUND® provides the perfect atmosphere for letting loose, getting energized, toning up and rockin' out! The workout is easily modifiable, and the alternative vibe and welcoming philosophy appeals to men and women of all ages and abilities.
Personal Training
Personal Training program offers fantastic one-on-one exercise guidance. These packages are specifically designed to develop permanent, positive changes to your health, your level of physical fitness and your overall well-being. Following your initial consultation, interview and body composition reports and analysis, your progress is carefully tracked over the course of your training program with periodic reevaluations to ensure that you are progressing at an appropriate pace toward meeting your ultimate fitness goals.
Weight Loss/Nutrition
Nutritionist counseling session to lose weight and conquer cravings. The weight management approach that focuses on lifestyle changes that may help you reach and maintain a healthier body weight. You will meet with an intuitive nutritionist individually to assess immediate and long-term nutrition needs and create an individualized plan. You will learn about how nutrition, physical activity, self-esteem, the environment and your behaviors affect your body. You set your own goals and make your plan to work towards them. Also, you will learn which foods cause aches and pains and which foods reduce inflammation. Learn how to boost your immune system naturally! Discover how to identify if you have a mineral deficiency & what you can do to solve the problem.