SUNNY ANASTASIA MARTYNOVA
Yoga & Fitness Instructor
Anastasia is an ERYT-200 certified yoga teacher and has extensive experience in yoga, mindfulness, meditation, dance, and fitness. Anastasia is a conscious artist, writer, choreographer, kids' yoga instructor, special needs kids' yoga instructor, adult's yoga instructor, post-traumatic stress disorder yoga instructor, and hypnotherapist. She is a dedicated yoga instructor and recognized for her powerful practice, intuitive understanding of the body, mind, and spirit, as well as her creative and engaging teaching style. She believes that yoga is a journey to recalibrate the biomechanics of the body, release tension through movement, increase strength, flexibility, and balance while harmonizing the body, mind and spirit through breath, postures, relaxation, and meditation. Anastasia draws from her immense background to uniquely weave together yoga, mindfulness, breath, and relaxation and make it an interactive learning experience. Anastasia works with kids, youth, adults, and seniors; she is eager to teach them an artistic way of living! She has been passionate about yoga since early childhood and has continued her studies with her dedicated teachers. Yoga came as naturally as a heartbeat or sunrise each morning to Anastasia, and she taught her first lotus pose to her mother and sister at the young age of 3. Anastasia loves to spend quality time with nature and lives from the heart! Every day she puts all her effort and love into self-mastery, guiding children and their wonderful parents, as well as her educators.
GENE AMEL MARTYNOVA
Sound Healing Instructor
A life-long scholar of the healing arts and sciences, Gene Amel harnesses her passion for healthy living by consistently striving to expand vital skills in a wide range of related fields. As an Intuitive Life Guide, Sound Healing Therapist, and Herbalist she has helped adults and children with special needs in their unique journeys of healing. She is a certified Energy Healing Practitioner through the Energy ALIVE® healing modality, as well as Usui Reiki System of Natural Healing, and Quantum-Touch healing. As a life coach, she specializes in helping individuals of all ages explore the issues causing them stress, health problems, and an imbalance in various areas of their lives. Gene Amel integrates sound healing therapy with mind body, meditative, energy approaches, tapping therapy, and relaxation. "I am here to help you to achieve your personal goals and find your personal purpose by guiding you on your unique path."
SONYA MELESCU
Yoga Instructor
Sonya is an RYT-200 certified yoga teacher. She studied meditation in Dharamshala, India, home of the Dalai Lama, and practices daily. Yoga has been an important part of Sonya's life for several decades; she loves sharing her Yoga experiences to help others physically and emotionally because the practice of Yoga helps develop physical and emotional balance. Sonya taught Yoga in the Virgin Islands and introduced Yoga to people in Rwanda and Eastern Congo. In 2011, Sonya was named an Ambassador for Peace by the Universal Peace Federation for her dedication to humanitarian work for the women and children in war-torn Eastern Congo, neighboring Rwanda, Haiti, Guatemala, Thailand, and India.
CATHY VALENTINE
Yoga Instructor
Cathy is a 200-hour certified Yogini with over 15 years of teaching experience. Her style has often been referred to as a mix of skill and spirit, as each of her classes combines the physical challenge of Yoga asanas with a spiritual undertone, creating what has been referred to as an "alluring" experience. Her love of Eastern philosophy, spirituality, and understanding of anatomy are all weaved skillfully into her teachings. Her approach to teaching is "user friendly and hands on" which allows for both, the very beginner and the more advanced student, to be challenged. By combining these skills with the ancient teachings of Yoga, Cathy's goal is to encourage her students to find insight and answers to life's deeper questions, creating transformation and liberation.
LINDA C. CAMPANELLI
Yoga Instructor
Linda is a Ph.D. health educator with a master's degree in exercise science, who has practiced yoga, sometimes sporadically, most of her life.  She is a professional public speaker for federal employees on preretirement transition issues and health and wellness issues fort adults in middle age and oler.  As part time faculty at The George Washington University, she is dedicated to raising awareness about wholistic health and wellness, specializing in sex education.  Recently, she completed the End of Life Nursing Education Curriculum as a Fellow of the Washington Area Geriatric Education College Consortium.  As a gerontologist (Certificates in Aging at the master's and doctoral level), Linda is pursuing teaching yoga practices to prevent bone loss, help women and men cope with body changes and personal losses, and to help people remember how to move their bodies after years of work-related neglect or long hours driving in traffic.   Although leadership positions in the corporate, academic and not-for-profit sectors have given her much experience creating, developing, launching and running integrative medicine and wellness programs for adults, her passion remains teaching and training adults how to be well and to live well.
Linda has had sports injuries from playing tackle football in college and later from a fall requiring back surgery.  She attributes basic movement (walking), stretching, and yoga practices to her complete recovery. She has coached first time marathoners and was inducted into the Marine Corps Marathon (MCM) Runners Club (completed 5 MCMs) after the age of 50. Currently, she is teaching yoga to special needs young adults and to clients who are workaholics seeking relief as well as to women in all stages of life changes.   Linda is also a primary long -distance caregiver to her parents, who live in Montreal, Canada, where Linda was born and raised.  She adapts yoga to her mother's neck immobility from spinal stenosis with chronic pain and continues to encourage mild movement despite their ages of 95 (father) and 89 (mother). 
Linda and her husband, Richard are parents of two children.    Nicholas (24) their youngest child, is on the autism spectrum and types to communicate.  Linda manages his day-to-day caregivers encouraging his personal independence as Nicholas is still currently looking for work.  She teaches special needs young adults yoga classes specifically to reduce their anxiety about finding meaningful work and then keeping jobs.   Linda has been a volunteer with many organizations including the Arlington County Special Education PTA, the Maryland Alzheimer's Association board of directors, and the Organization for Autism Research. Currently, she serves on the WSAC Alexandria/Arlington medicaid waiver selection committee, representing Arlington County.
Her two rescue cats, Ben and Leia, sit on her mat when she practices.   Linda loves to dance, a good book, satire, belly laughter, everything NPR, and getting a good night's sleep!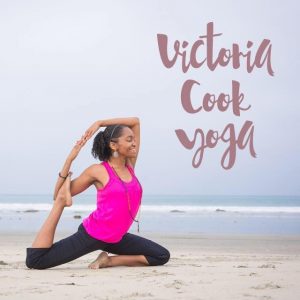 VICTORIA COOK
Yoga Instructor
Victoria is a 200 hour certified yoga teacher,yokid certified and Reiki Practitioner. I love teaching yoga to all ages from school-age,teens,adults and seniors.I have a passion with working with special needs children,creative arts,music and movement,journaling,art,traveling and reading. I have experience with teaching yoga workshops in Orlando,Florida for the National After-school Alliance working with children for two years and was selected for the 25 best workshops.My approach to yoga is mindfulness,reconnection to the crown chakra,metaphysical philosophies,crystal healing,meditation, full phrases and astronomy. I enjoy reading outside doing yoga with my family and being a service of others. Like the hummingbird sipping nectar from every flower,I fly joyfully
through my days,seeing beauty in everything" ~Amethyst Wyldfyre~
JAMIE MEIDHOF
Yoga Instructor
Jamie is an energetic, sun and sand loving instructor who turned to yoga to compliment the demands of CrossFit. She loves the energy, comradery, and hard-charging nature of CrossFit. An injury caused her to explore yoga, where she realized her body was craving a more nurturing outlet. Once she started a regular yoga practice, she was hooked. Her classes are fun, flowy, and exploratory. Jamie will challenge you to find your edge – and your belly laugh when you end up on the floor! She is inspired by her students daily and continues to learn as she deepens her own practice.
LAUREN DEVERA
Yoga, Barre, and Dance Instructor
Lauren (RYT 200, CAPP) is a Dance graduate of Old Dominion University and has made incredible strides in her career as a performer, choreographer and educator. Lauren is a distinguished thought leader in the dance community with performing and teaching credits including the Kennedy Center, Howard Theatre, Dance Place DC, World of Dance, Carnival, BET, and CW Network. With a deep-rooted passion to bring fellow artists together, she has been a pioneer beginning as a leader of KODACHROME VA (Dance Workshop Series), later expanding her reach as the co-founder of Bahay Base (DMV Dance home) & previous Production Manager of DMV Diggs Deeper (Freestyle Dance Event). Currently Lauren is the founder of The Lion's Den, a community organization dedicated to inclusion and building community through dance and movement and is adjunct faculty at George Washington University. Lauren is a lover of movement, mindfulness and helping others reach their fullest potential!
KIM VANDERVOSSEN TRACY
Yoga instructor
Due to her love of movement, Kim found her way to yoga in her teens and has been practicing for over 25 years. She has studied with a variety of healing practices including receiving a certification in Reiki 2 in addition to her 200-hour yoga training. Kim took part in a Yoga Therapy Advanced Level Training for an additional 150-hours and holds certificates in Prenatal, Postnatal, and Kids Yoga. She holds a degree in Psychology and currently studies Ayurveda. She regularly practices Qi Gong and loves to belly dance. She brings a blend of things she loves into her classes and in her classes offers people opportunity to explore movement at their own pace to promote healing within the body.
STEVE SAN MIGUEL
Zumba Instructor
Steve is licensed to teach Aqua Zumba, Strong by Zumba, Zumbini, Zumba Gold, and Zumba! Steve started the road to living a healthy lifestyle back in December 2017 when getting licensed for Zumba and began his mission to share his love of dance and fitness with the DMV area. He has lost over 60 pounds since and continues to spread the message of having balance in one's life by combining meditation & yoga, working out regularly, eating healthy, and making time to be with loved ones. Be ready to sweat and shake that rub-a-bum bum! See you on the dance floor! #Impact #BeYourself
NANCY FRANCES
Zumba Instructor
Nancy Frances was born and raised in NY. She has been licensed in Zumba since 2013 and moved to Miami where she lived for 4 years studying Zumba extensively. She received other Zumba specialties such as Zumba Step, Zumba Toning, and Zumba Gold during her time in South Florida. Nancy enjoys dancing and fitness education so much. She was inspired while taking a class with "The Boss," the creator of Zumba, Beto Perez, and she realized that helping other people with their fitness journey is part of her destiny. In previous years she trained professionally with two Ballet Companies where she learned Ballet, Jazz, Modern, Flamenco, and Afro Brazilian Dance, and has choreographed for STING and MTV to name a couple. She has also toured extensively around the United States and Europe where she danced for two recording artists. She is now teaching Zumba and enjoys the Latin rhythm and international flavor Zumba has to offer. Nancy has also trained and worked for Latin Dance companies like Casa Salsa where she learned traditional Dominican Bachata and Salsa on 2. Today Nancy is living in the DMV area where she is providing super pumped exhilarating classes for all to enjoy. You will sweat, and most of all, you will see results.
ETHEL HIGGANBOTHAM
Aerial Yoga & Acro Yoga Instructor
As we age we lose balance and flexibility. Many things can throw us off balance, but flexibility decides our landing. After many years in emergency medicine, Ethel wanted a change. Long a practitioner of Ashtanga, Acro, and Aerial Arts, she decided to explore an education in yoga. Completing a 200-hour training brought a desire to teach; to better serve her students Ethel enrolled in a 300-hour advanced yoga teacher training as well as aerial teacher training. "It is my belief if there is a miracle on this Earth it is the human body. Combining my tools to teach yoga on the ground or in the air, individuals or partners, offers the pure joy of seeing my students create their own balanced, flexible and healthy bodies."
DAVID SPENSER
QiGong Instructor
David has been a full-time licensed massage therapist since 2000 after graduating from the Baltimore School of Massage. He believes in the body's ability to heal itself and utilizes his expertise to assist in this process.  David uses in-depth knowledge of anatomy, physiology, and kinesiology to assess his patient's needs. He is also a practicing Reiki, Qi Gong and Food Healing teacher. His approach to bodywork is rather unique, integrating a mixture of Clinical Massage, Deep Tissue, Swedish, Trigger Point, Myofascial and Craniosacral Therapy to release muscle tension. David specializes in increasing hip, rotator cuff, and spine mobility by using Active Isolated Stretching techniques. While firm pressure is his strength, relaxation and comfort are still the ideal goal. He has had great success helping clients who are dealing with headaches, TMJ disorders, carpal tunnel syndrome, plantar fasciitis, and postural dysfunction associated with office work and regular computer use. By adjusting each massage to the individual client, he will provide a very specific massage for your needs. David's takes time to unwind by practicing Qigong by a lake or in the mountains and enjoys hiking with his wife as much as possible.
AJ FITZGERALD
Personal Trainer & Coach  
Fitness has always been a part of my life.  After my collegiate playing days were over, health and fitness went from a structured, somewhat mandatory, setting to a free for all.  Poor sleeping habits, late night food and not prioritizing my health all contributed to rapid weight gain.  If my health and physical fitness were going to be important to me, I needed to be honest with myself and change my lifestyle. As a husband, father, and basketball coach, finding the time to work out is a constant obstacle. Making fitness a priority and structuring the week creates the time I need. With the knowledge and skills I've picked up over the years, I now want to support you in working towards your own health goals, helping map out a balanced lifestyle filled with energy, happiness, and good health.  As a Strength & Conditioning Coach and a Specialist in Fitness Nutrition I get to live out my passion for physical fitness and health empowerment.  Let me show you how I learned to achieve my physical fitness goals in the one hundred and sixty-eight hours, we're given each week. I am a graduate of the University of Mary Washington where I studied Business and was a member of the University's Men's Basketball Program. I am certified through the International Sports Science Administration (ISSA) as a Specialist in Strength and Conditioning and a Specialist in Fitness Nutrition.